Derricotte Returns to Jag Nation
"We are One Cedar, One Family, the Jaguar way is a matter of pride," Derricotte said. "I've seen a lot of negativity, but at the same time when you get a chance to actually come to the building, you realize that it's not a horror story and we have a lot of great things going on."
It has been 22 years since he graduated from Cedar Shoals, but Antonio Derricotte is ready to represent the Jaguars once again as the athletic director — and assistant principal.
"Cedar is home," said Derricotte. Graduating from Cedar Shoals in 1995, Derricotte aims to push athletics and student culture into the right direction, one step at a time.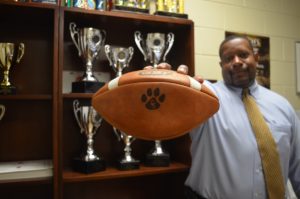 Since the retirement of the former athletic director Roger Edmonds, Derricotte has begun to develop plans for Cedar athletics by emphasizing current strengths and addressing the weaknesses while building upon what we have now.
"I'm not trying to make a lot of radical changes but look at what we have," said Derricotte. "We have a lot of teams, but we don't necessarily have a lot of concrete sports programs. I'm trying to create a sports program where minor sports get more exposure."
Derricotte plans to supply minor sports with the resources and attention they need to become well known throughout the school.
New head Volleyball Coach Jordan Rooks is deeply grateful to have Coach Derricotte's leadership.
"He works so hard to provide volleyball with everything they need. I can really tell based on his efforts that his goals are to build a strong, community-based volleyball program," said Rooks.
The volleyball program had three different head coaches in the last three seasons. With Rooks in charge, Derricotte sees the program already growing.
"I can see the investment that has been made and the growth that is taking place. You don't always look at numerical wins and losses, but you see the overall development and it actually looks like a program right now." Derricotte said.
Head basketball coach L'Dreco Thomas graduated from Cedar Shoals two years before Derricotte, so Thomas has been fortunate enough to know Derricotte outside of the required school meetings. Thomas admires the effort Coach Derricotte has been putting into athletics at Cedar Shoals.
"He looked at our body of work over the last few years and said 'Hey. You guys should be rewarded for your hard work,', and I really love that. He has a great knowledge of what he's doing. He's very approachable, and you're always going to see him in the community. Sometimes we have to make him go home," said Thomas.
"It is absolutely clear that he has a deep love and commitment to students," said Principal DeAnne Varitek.
Student athletes are also appreciative of the action he is taking for the Cedar community.
"As far as athletics, he brings a very positive mindset to us. He makes sure that whatever he says, he does," said Kiyonnice Smith, quarterback.
Derricotte worked to supply the football team with better resources such as new uniforms. He also personally cleaned up the locker rooms before the season.
"Whatever we have, he tries to make better," Smith said.
Derricotte's previous work experience in both K-12 public education and universities has helped him take on a second leadership role at Cedar Shoals: eleventh grade assistant principal. As an administrator, he is responsible for overseeing junior student discipline and a certain amount of teachers in the 11th grade.
He has been juggling two hats ever since working at Oglethorpe County High School where he was the athletic director as well. Although he did not have the title of assistant principal at Oglethorpe, he often stepped into that role.
"It's nothing new to me," said Derricotte. "It [the experience at Oglethorpe] laid the foundation. It was nothing overzealous or shocking to me because I had already experienced it before."
Being a Cedar student, Derricotte was involved in numerous school activities including sports, journalism, debate club, and drama club.
"Based on all the activities I've participated in as a student, it all helps me more invigorate and appreciate the job I have now," Derricotte said.
When he was a football player at Georgia Southern, Derricotte tore his left knee which changed his whole outlook.
"I said 'you know what, sports aren't everything, I need to focus on my academics and do it from that standpoint,'" Derricotte said.
As a high school student, Derricotte was heavily involved and received school recognitions by being voted "Friendliest", "Most Sincere", "Most Spirited", "Most Optimistic", "Best Personality", "Wittiest", and even "Mr. Cedar Shoals," all in his senior year of high school.
After Cedar Shoals, Derricotte received his undergraduate degrees in public relations and education at Georgia Southern University where he was a tour guide and an ambassador. He also worked as an admissions counselor where he visited over 350 high schools. He received his Master's degree at Piedmont College, all of which has helped him in succeeding in this role as athletic director.
Perhaps Derricotte was destined for educational leadership. His mother was involved in education for 36 years in Clarke County. He was always around her teacher friends which allowed him to understand the value of education. Being an only child, his mother's influence also impacted his approach to his current role.
"That in itself creates its own dynamic," Derricotte said.
Varitek also acknowledges his commitment to not only athletics but academics as well.
"He sees that as important as athletics are because they help develop the students, that academics are just as important," said Varitek.
One of Derricotte's long term goals includes creating a sports program where each team appreciates what the other programs have to offer. He believes this will change the entire culture of Cedar Shoals athletically.
"We easily can point out things that have happened that have got us off course, but at the end of the day we're all pushing and working for a better Cedar," said Derricotte.