Camp's march across the country
Practice for 14 hours, rehearsals in the morning, a show at night, and then on to the next city. That might sound like the life of a rock star, but it's how Cedar Shoals junior Jackson Camp spent his summer in a three month program known as Drum Corps International (DCI): Marching Music's Major League.
DCI produces events for the world's most elite and exclusive marching ensembles for student musicians and performers. The organization has 46 sectors known as corps that are divided into two overarching categories: World Class and Open Class. Camp was a part of the Spirit of Atlanta Drum and Bugle Corps, a World Class Corp that is based in Atlanta, Georgia.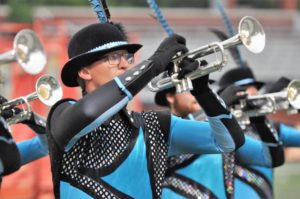 Getting into Drum Corps International is not easy. Thousands of people from the ages of 15-21 audition to be in DCI with over 700 people competing for 150 spots just for the Spirit of Atlanta Corps, making the program highly selective.
Jackson attended 3 separate audition camps over the course of 3 months.
"They sent out a packet with information and a couple of Etudes. You learn those, audition, and then you have to do a fitness evaluation to make sure you were actually fit enough to march," said Jackson.
One of the youngest corps members this summer, Jackson is the first student from Clarke County to get into the program.
"It made me feel pretty good knowing that I'm 16 and everyone else is 18, 19, 20, and that at this age I'm able to compete with guys older than me," said Camp.
After getting into Drum Corps, the challenges don't end. Long hours of practice are required, far more than a regular high school marching band.
"In most high school bands we rehearse maybe three days a week, two and a half hours each day. They're spending a lot of time in music rehearsals. They also have music time, music block, and fundamentals where they do all the marching, fitness, and calisthenics," said Dr. Zandra Bell-McRoy, Cedar Shoals Band Director. "They're learning the show and cleaning the actual drill on the field, so they're rehearsing eight to ten, sometimes 12-hours a day plus performances."
Drum Corps also features more variety in performances.
"We perform maybe once a week at a Friday night football game, and then we have two competitions. They're performing multiple times. Every time they perform they get feedback and they have to change things in the show, so they have to relearn certain parts of the show," said Bell-McRoy.
"It is not like marching band in high school or even college marching band. They travel around the country competing against other corps," said Chris Camp, Jackson's father.
Participation in such an intense program requires dedication. Jackson's parents influenced this commitment since he was a child.
"Jackson has been around band his whole life. He went to his first concert when he was just a couple weeks old," said Mrs. Laurie Camp, Jackson's mother and Hilsman Middle School Band Director.
"From a newborn he was on stage with me when performing at Music on the Lawn at Cedar Shoals, playing on instruments at football games and after concerts, and playing around on the piano at our house," said Mr. Camp.
To Jackson, marching band is where a group of people can get together to put a piece of art on the field. His passion for music and band led him to join Cedar's marching band during his 8th grade year.
"It was really easy for him to get it and figure out feet technique and body character; he's just a natural mover," said Bell-McRoy. "He gets movement and gets how to move and play at the same time and still sound good."
Attending DCI has also allowed Jackson to pick up many skills outside the realm of music that can be contributed to the Classic City Sound at Cedar Shoals.
"Participating in Drum Corps has taught Jackson how to manage his time, be independent, and how to be a team player. Being around 200 people for 24 hours a day, you learn to cooperate and get along even when exhausted," said Mrs. Camp.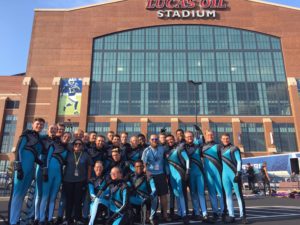 Jackson has transferred those leadership skills to taking on the job of band captain, a role typically reserved for seniors.
"The band captain is traditionally our strongest marcher and our strongest musician. They are in charge of making sure all of the other captains are doing what they are supposed to do," said Bell-McRoy.
Jackson also helps arrange music for the band.
"I learned to arrange just by messing around on a program on my mom's computer. I started playing piano when I was in kindergarten, picked up trumpet when I was in middle school, and then learned to play guitar a little bit, so I have been reading music my entire life," said Camp. "It's like when people learn to read and write. You learn how to read before you write so that writing becomes easier. The same thing applies to me when writing music."
While Jackson has accomplished many feats in terms of marching and music, he's still looking to grow more as a musician.
"I learned how to never be complacent with something and to never be happy with one thing when there's something better that's in front of you. It's the mentality that you're always going to better tomorrow than you are today," said Camp.
"He's really gained the respect of the younger members. They really look up to him and they respect that he's still one of them. He's still just a silly, goofy band kid, and he hasn't lost that. I think that really resonates with students," said Bell-McRoy.
After high school, Camp looks forward to studying music education in college.
"I just hope he continues to not sacrifice anything for anyone by always going after what he wants. If he wants to play in the top military band or best college band in the country, just go for it. I think that if he keeps going at the rate he's going, he's going to be great," said Bell-McRoy.