The COVID-19 pandemic is still in full effect with an enduring impact on Georgia while cases continue to rise in number. Many residents in Athens are concerned about how polling stations will adjust and input procedures to safely allow the public to participate in this upcoming election with early action voting being open for two weeks since it began on Oct. 12.
According to Online Athens, Georgians requesting mail in ballots increased to 1,352,070 by Sept. 29, almost five times as many as the 2016 presidential election which only saw 241,519 mail-in ballots issued. Many voters still intend to use in person polling stations offered around the community.
"People should vote in every election. This is our moment, the elections are our opportunities to use our voice and to determine who will be our government," Athens-Clarke County Board of Elections Chairperson and Cedar Shoals Social Studies Teacher Jesse Evans said. "Elections can have huge consequences that can last for decades and decades. So it's very important that we exercise our voices and right to vote."
Popular polling stations around the Athens community remain open with a limit on occupancy inside the buildings. Still, for poll workers, the pandemic has caused controversy over how to remain open to the public. The University of Georgia addressed these problems when they announced the closure of the Tate Center for on campus voting. They later reversed the decision and opened the larger Stegeman Coliseum venue for early voting after much local backlash.
"We were desperately disappointed with their decision. That's why we ended up calling a special meeting. I called the special meeting after seeing the tweet on their account," Evans said. "Once we received word via tweet that they would be open to (voting at Stegeman), I immediately started working on calling a special session for the board of elections. We got it taken care of soon after that."
Athenians have two options to cast their votes whether advanced-in-person or absentee-by-mail. The Board of Elections introduced six mail-in-ballot boxes around the community where voters can safely deposit their ballots. These boxes are located at: Athens-Clarke County Elections Office, Athens-Clarke County Library, Athens-Clarke County Multimodal Transportation Center, Fire Station #7 on Barnett Shoals Road, ACC Extension, and Winterville City Hall. The ballot boxes close at 7:00 p.m. on Election Day.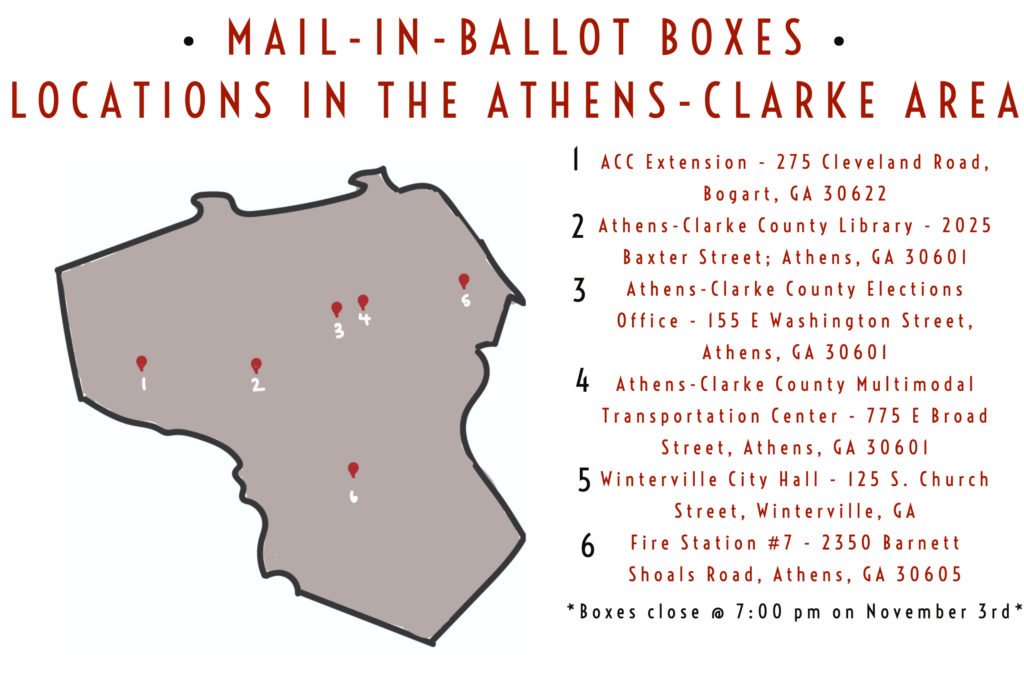 "By allowing people to vote early at six different locations here in town, the idea is if people go and vote before election day then there'll be fewer people needing to vote on election day and that reduces the COVID issues," Evans said.
Evans and the BOE are also taking the necessary measures to create a safe environment at polling stations the day of the election. Poll workers are mainly composed of volunteers around the community, many of whom are elderly citizens. In this year's election, teenagers have also begun to volunteer more frequently.
Though teenagers and younger generations usually have a lower percentage of voter turnout in elections when compared to older voters, elections assistant Lisa McGlaun believes that teaching the newer generations about the process will make them more likely to vote.
"I think it does increase their likelihood to vote because number one they're more engaged," McGlaun said.
She has led the efforts of hiring younger poll workers and has had many experiences training teens who volunteer to be poll workers, giving them an understanding of the election system.
"This is a good exposure for them and most of those I spoke to had a clear sense that this was something really important that we were doing. So I'm hoping that it'll create at least a baseline of interest in this for the rest of their lives. I hope they continue to be poll workers because they're certainly needed. It's a nice way to serve your community," said McGlaun.
A nationwide push for volunteers has left McGlaun assured that they have the extra help needed to work the stations efficiently during the election.
"They were a big help. This time in November, people had school obligations so that's why we lost a few who didn't want to come back in for this election along with the added concerns about the pandemic," McGlaun said. "But there was a huge push all over the country for the hiring of poll workers and getting the word out that polls are usually staffed by elderly people who aren't working because of the pandemic. Because of that push we had over 500 people applying to be workers."
Voters across Athens have adjusted to voting in a pandemic. Although it's not an ideal, Jack Reilley, an active voter in the Athens community since 2008, does not mind the extra precautions and believes that voting is important.
"Everyone who can vote should go and vote. If you don't vote you don't really have an excuse to complain about things that happen," Reilley said. "So if you're trying to implement change and you find somebody that you think is going to do a good job then you should go out and support them with your vote because it does matter."