How the sports world is adjusting to a global pandemic
Thursday, Sept. 10, 2020 was an important day in the sports archives. For the first time in history the NBA, MLS, NFL, MLB, NHL and WNBA all had games scheduled and played on the same day.
Under normal circumstances, this would be the equivalent of sports nirvana for fans, but five of the six professional leagues featured no live attendance for fans that day. Since respiratory droplets are produced during exhalation and can suspend in the air for hours at a time, professional sports could only continue at first without live fans, especially indoors, to prevent further spread of COVID-19.
The continuing spread of the virus poses a dilemma for athletic programs across the country in deciding how to continue on with sports, especially for events such as football and volleyball, where players are in close proximity to one another. Developing guidelines and protocols for player safety has proven more important than ever in order to let athletes return to the games they love.
In Georgia, which yields the sixth highest cumulative number of COVID-19 cases in America, Georgia High School Association Executive Director Dr. Robin Hines is tasked with determining the precautionary measures necessary to maintain player safety for student athletes participating in their respective athletic programs. He stressed the importance of creating an environment that players and fans can feel comfortable while attending the games.
"If we get to the championship in football, the entire stadium will be opened up including the section up high so that people will be able to socially distance if they feel like they need to do that," Dr. Hines said. "This option will be available to them as well as the mitigating factors we put in place during the regular season like extending the players box so those types of things will be in place."
Even though Dr. Hines monitors the large scale issues associated with sports during the pandemic, it's up to the individual schools and counties to enact the guidelines that will make their own students safe and distanced from the virus. Cedar Shoals Co-Athletic Director Coach L'Dreco Thomas has been responsible for coaching, teaching and monitoring fall sports teams to make sure they follow protocol. In his second year as an AD, student safety has become his number one priority.
"Last year having help and support from administrators and my associate AD Coach Leroy Ryals made the process a lot smoother. I feel like I barely got my feet wet and now this year it's a challenge with the pandmeic and trying to make sure student athletes are safe," Thomas said. "So far it's been a grind to make sure we adhere to all the procedures and making sure our student athletes are doing what they're supposed to be doing not only here but in the community to make themselves safe."
Two consecutive varsity football Games were not played due to COVID-19 complications. The homecoming game against Madison County was postponed to Oct. 16 after multiple Jaguar players experienced respiratory issues, according to a statement issued by Cedar Shoals Principal Mr. Tony Derricotte. The East Hall game scheduled for Oct. 9 was cancelled after a player from East Hall tested positive for COVID-19.
In light of these events, coaches have expounded to the players the need to be safe not just during practice but off the field as well. Ryals, who is also the head football coach, wants his players to take an abundance of caution when out in the community.
"We preach what we call a protective bubble," Ryals said. "We tell (our players) that when you leave our bubble, you gotta protect it and that means you have to educate your parents, your siblings, and let them know you can't do certain things you'd normally do, at least for the season."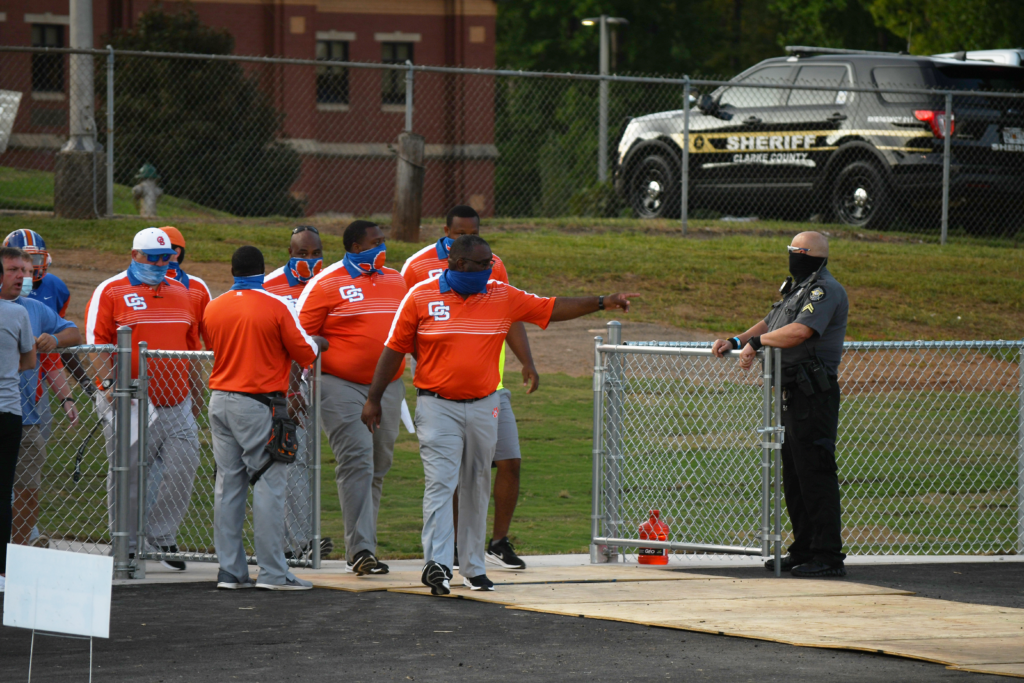 Even though student athletes are asked to do more off the field to stay safe, some feel that the benefits and the enjoyment of playing team sports outweigh the potential risks that may be involved. For senior outside hitter Ashley Jones (volleyball) the pandemic has motivated her to play out her final season.
"Sports is what keeps me going everyday," Jones said. "That gives me extra motivation to keep me on the team, and to continue to do good so I can play."
Dr. Hines expressed the same sentiment when asked about the biggest reason for continuing Fall sports in Georgia.
"I believe that if you're on a sports team, you learn and set goals and learn how to be something that's bigger yourself," said Dr. Hines. "You have to learn how to lead, how to follow, and how to be a leader, and it's my belief that all these things are taught best in the athletic field."