Students flood into the open doors of a bustling school with hair done, new backpacks and first-day nerves. But for some, it's much more than jitters. The National Institute of Mental Health estimates that one in three teenagers will struggle with anxiety at some point between the ages of 13 and 18.
For students who struggle with social anxiety, going back to school can be a trigger. This year these challenges have only become more relevant as students return to school buildings after months of online learning.
"It's just such a difference being around so many people versus being at home all by yourself just kind of doing what you want. And then you see all these people, and it's like 'Woah,'" freshman Morraea Brandenburg said.
Cedar Shoals counselor Sharon Sellers sees the emotional toll the pandemic has taken on students over the past year and their return to school.
"It's a transition. Your body automatically goes into, 'what can I do to create some normalcy for myself?'" Sellers said. "That is always going to happen, but then you add this element of school, where there are so many expectations. It is especially different this time around, just because school has looked different the last year and a half. So it will definitely add to the pressures of just being a student."
Some Cedar Shoals students went back to in-person learning near the end of last school year, but others haven't been at school since March 2020.
"Transferring from seeing probably no one at all to a lot of people every day, it was a very sudden change for me. So I think the most difficult thing is how quickly it happened," freshman Lorelei Smith said.
Sophomore India Collins also feels that the stress of this year's transition was heightened by the pandemic.
"I was just used to being in an environment with a lot of people. I was used to the distraction, and because of COVID I had a more settled, calm environment. Now we're back to in person, and it's just hitting you really bad," Collins said.
After a peaceful summer with relaxed mask policies and optimistic event planning, COVID-19 cases have surged in Athens-Clarke County. There were no newly confirmed cases on July 1, but there were 192 cases confirmed on Sept. 3 alone. In the first 24 days of September, there were 35 cases confirmed among Cedar Shoals students and staff. This spike could result in a tumultuous school year.
"Anytime we think we have a plan in place, something else happens. The world gives us another change to adjust to. So I think the biggest concern there is just fear and what we don't know, fearing what else is coming down the pipe," Sellers said.
For Collins, going back to school also brings worries of being left behind academically.
"It's a lot of work. Last year, we didn't really have any due dates. But now we do have due dates, and a couple of math courses are harder than the others. It's just times ten," Collins said.
To ease anxiety, the Anxiety and Depression Association of America recommends taking restorative breaks, getting enough sleep and talking to others.
"You've got to learn to break away. I don't care what life is dealing, I guarantee you have to learn to break away," Sellers said. "A lot of times when someone is experiencing anxiety they become obsessed with the thing that is causing anxiety. Be able to break free of that, allow yourself to have some breaks."
Sellers encourages families to play a role in their child's downtime.
"Parents can definitely help the kids disconnect and use it as a time to recharge. Disconnecting doesn't necessarily mean going on vacation, it's just being intentional about 'We need a break from this to recharge.'"
To cope with anxiety, Smith takes walks, talks to friends and spends time alone at the end of the day. One of the main ways Brandenburg copes is by talking to others.
"Expressing how I feel and letting out my feelings helps me feel better," Brandenburg said.
Collins says she has been telling her mom and a friend about her struggles, although she is still looking for ways to better manage her anxiety. Smith shares this search for more effective coping strategies.
"I might lack some knowledge of a good way to cope sometimes. Sometimes the ways I cope can seem more as trying to escape, even though it might seem like it's coping. I think (I'm) just needing more information on the positive ways to cope," Smith said.
In-person school has already been paused once this year, and it's possible this will happen again. Although many students who experience social anxiety enjoyed virtual learning like Brandenburg, Collins and Smith, the shifts to and from different learning models could prove to be anxiety inducing for some. This school year may end up having a few "first days of school".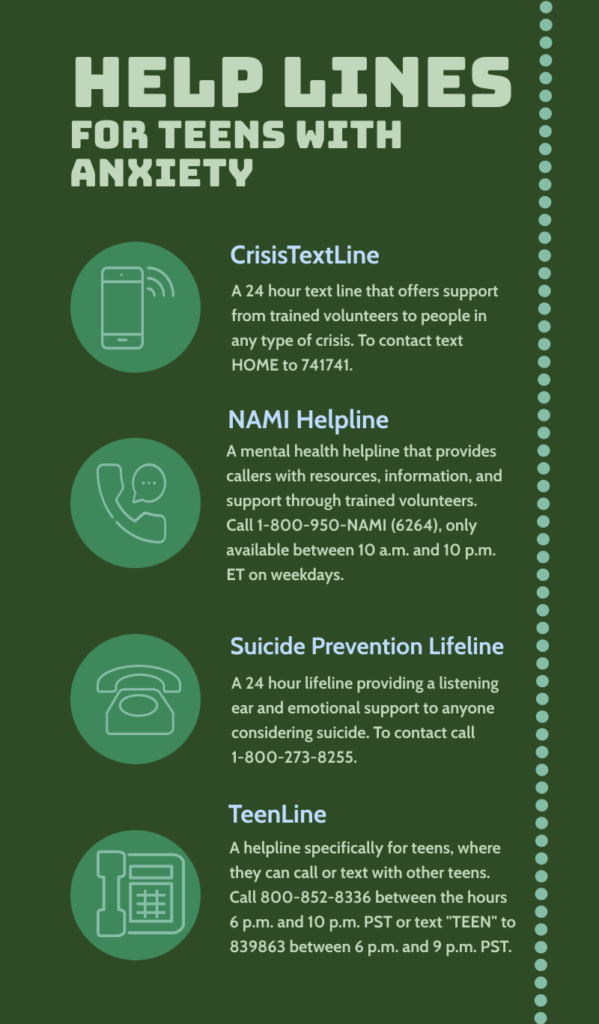 "I feel like once you're in the environment, like if you're scared of something and you go do it, eventually you're not going to be scared, because you get used to it. I would say I'm kind of in the transition right now where I'm not so scared to be around people, because I'm getting used to it," Brandenburg said.
What's most important right now, Sellers says, is to "grant yourself some grace — guilt-free grace."