Cedar Shoals has not had a female wrestler since 2010, but this year junior Samantha Mifflin is breaking that streak.
"It was just something that I thought would be interesting," Mifflin said. "It feels pretty good being a female wrestler, you set an example and you're well known."
Daniel Culliver has been head coach since 2013 and was assistant coach for the 2011-12 season. In that time he has not seen any female stick with the team after initial interest.
"They tried out and wrestled in maybe one or two matches but didn't go through with it," Culliver said. "Having Samantha this year is great. She's really into wrestling, she's doing a good job, she's always at practice. I think that it's a perfect situation where she's taking wrestling very seriously, and she's gotten some other girls to try out as well."
When she started, Mifflin wondered how the other wrestlers would react to her.
"I wasn't really sure how the guys would act when I wrestled them. I thought they would be a little weirded out like, 'Why is this girl wrestling me?' I thought they would go easy on me," Mifflin said.
Culliver works to make sure everyone feels welcome in the wrestling room.
"The kind of team atmosphere we have set is that this is our family. Whoever comes through those doors are family," Culliver said. "Samantha's teammates have really embraced her and it's easy to embrace Samantha because she is enthusiastic, a good teammate, she tries hard, she goes all out and she definitely wears her emotions on her sleeve."
In 2008, then sophomore Farrah Johnson wanted to try out for the wrestling team. She says she was rejected by the coach at the time because she was female, so she tried out the next year when a different coach took over.
"A couple of girls joined in the 2009-10 season and our team was really close. Our coach was very inclusive and treated everyone the same. It was weird when we went to some schools because we actually had moments where they would refuse to wrestle us girls," Johnson said. "Our coach would say 'If you don't want to wrestle our girls you won't wrestle any of us.'"
Weight classes group wrestlers to determine competitions. Although boys and girls compete against each other, their weight classes are different. In 2018, the Georgia High School Association (GHSA) announced that they would begin to hold an all-female state wrestling championship which led to creating female weight classes.
"Female weight classes are more set up to accommodate the female body. It makes it a lot easier to get more girls to come out and feel comfortable while wrestling," Culliver said.
Although female wrestling has picked up in Georgia since GHSA approved the competitions, going from 239 females in 2017 to 427 in 2018, the chance of Mifflin wrestling another female in her weight class remains low.
However, wrestling male competitors at competitions won't be any different than Mifflin's daily practice.
"I am really close with the guys I'm practicing with but a big disadvantage I have is that a lot of the guys I am wrestling with are really hard on me," Mifflin said. "They know what they're doing, so I have to work just as hard or two times as hard to fit in."
At practice Mifflin has shown a sense of courage while wrestling her teammates, no matter who they are.
---
"When she comes she is really ready to wrestle. She is not scared to wrestle against any boy bigger or smaller than her,"
– Daniel Culliver
---
Junior Obayemi Blake had never wrestled a female until Mifflin joined the team.
"Other than the fact that she is new to wrestling there really isn't a huge difference in wrestling her compared to others," said Blake.
Even though Mifflin is new to the sport, she brings enthusiasm and a strong work ethic.
"She's super excited all the time, she is so eager to learn and she's not scared of any competition. She'll take on the biggest person in the room like it's nothing, and she has zero fear when it comes to wrestling," said Blake.
Culliver is ensuring that Mifflin gets a good understanding of the sport while also enjoying it.
"The one thing about wrestling is it's a very fun sport. It's simple but it can be very complex at times and Samantha has done a good job of balancing the complexities of learning a new sport and also really relishing in some of the simple things," Culliver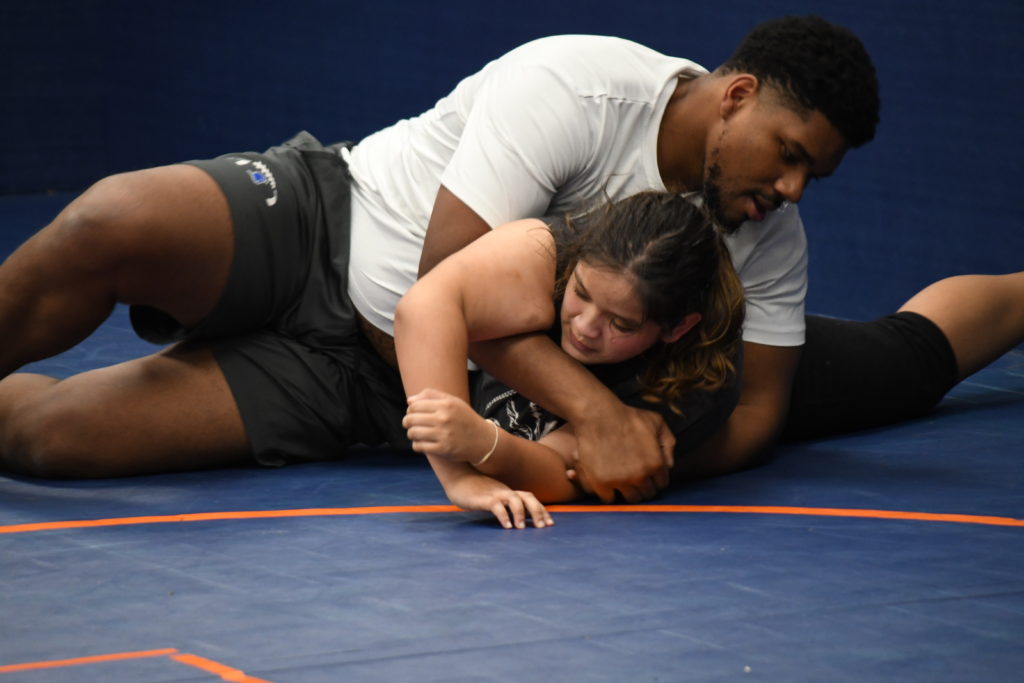 After last year's season in the midst of COVID-19, Culliver is looking forward to having a full season.
"This year we've had a really good trained core group of six to eight wrestlers that are coming back and adding Samantha and a couple of others it's really going to be a good year for us," Culliver said.
Mifflin plans to continue wrestling in the 2022-2023 season and she hopes more female wrestlers join.
"There will definitely be some more women joining the team. It sometimes just takes a little push and for one person to represent for more to come," Mifflin said.