Into the Belly of the Beast: A Weekend at Dragoncon
On Saturday, September 3, I went to Dragon Con for the first time, accompanied by my friends Eliza and Camryn, my parents, and my little brother Noah. I had been to other cons before, but never one this big.
For those not nerdy enough to have heard of it, Dragon Con is a huge convention for nerds and geeks of all shapes and sizes to gather, dress up as their favorite characters, and meet their favorite actors. It is the height of geekdom, and it's right up my alley.
It took forever to get ready, especially since I had to spend thirty minutes putting in purple contacts for my costume. I dressed as the character Homura Akemi from the anime Madoka Magica, Eliza was Veronica from Heathers: the Musical, and Camryn was Galadriel from Lord of the Rings. My mother was Kyubey from Madoka Magica, and my father and my brother were Rick and Morty from the cartoon of the same name.
Our first destination was the annual Dragon Con parade, a giant march of costumed nerds and geeks down Peachtree Street in downtown Atlanta, and arguably the biggest event of the weekend. We walked for half an hour in the heat trying to find the parade, but when we finally found it, the sidewalks were so packed we couldn't see anything at all.
I felt irritable; nobody recognized my costume, we walked all this way for nothing, and we were wasting our day. We gave up on the parade and decided to go get our membership badges.
In the line for memberships, a cosplayer said to me, "Your Homura is beautiful." I started to feel a little better. Even though I didn't know who she was cosplaying, her costume looked incredible.
Outside of registration, we ran into a blue-haired friend of mine named Kamron. He had been at the con for two days already, so he knew how to get around. He took us to the food court for lunch. Afterward, the contact in my right eye began to irritate me, but I couldn't pinch them out effectively with the fake nails from my costume. Neither a knowledgeable woman in the bathroom nor Eliza's moral support could help me. Dejected, I went back out to our table and peeled off the fake nails. After that, getting out the contacts was a pinch (pun intended).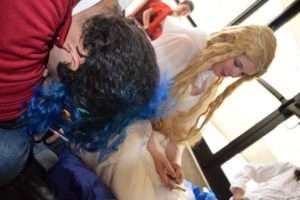 Next, we headed toward the vendor's hall, a giant, multi-level market full of nerdy things. The space was packed, so full of costumed con-goers that we could barely move. We passed by booth after booth of interesting goods. There was a table of swords where a man sliced up a business card for demonstration, numerous art booths, packed bookcases full of comics and manga, Star Wars and Spiderman shirts hung from floor to ceiling, and famous comic book illustrators signing autographs. Apparently Stan Lee was around somewhere, though we never saw him.
I had a great time looking through the vendor's hall, and now we were off to the cosplay contest, a competition where people could get their costume judged and ranked. I couldn't wait to see all the cool costumes.
We spent forty minutes trying to locate it and thirty in line before finding out it was full, and we couldn't get in.
We collapsed on a couch in the hotel lobby, our feet too tired to keep walking and our costumes a mess. I took off my wig to find it in a rat's nest tangle. When I tried to brush it out, the hair kept shedding, and the knots were too tight to remove. I felt rotten. My wig was tangled beyond repair, my eye still itched from the contact, my feet hurt terribly from the uncomfortable costume shoes, and it felt like we hadn't done anything productive all day. I shoved the wig in my bag and headed to the vendor's hall for a new one; without a wig, I couldn't cosplay tomorrow.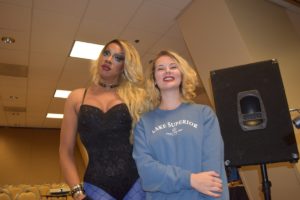 I was a girl on a mission. I looked at a couple booths before choosing my wig, which the salesman assured me was double-wefted (double the hair) and made of some fancy Japanese fiber. Good enough for me. Before leaving to meet up with everyone, I wandered around a little more, and found a booth selling phone cases. I snatched the last available Rick and Morty case just as the hall was closing.
After dinner came the Steven Universe sing-along. I have been a fan of the Cartoon Network show for years now, and was excited to sing its catchy songs with other fans.The seats were full, but we stood in the back until the crowd thinned and we could grab seats. Eliza and I sang along to the ukulele and violin-laden music so loudly our voices went hoarse, and then we trudged back to the car to find our Airbnb for some much needed rest.
The next morning we woke up early. While yesterday I was the regular version of Homura, today I was going to be her nerdy self from later in the series, with glasses, braids and a golf club. I cut and braided my new wig, which looked shiny and full, if a bit packed with bobby pins, and framed my face nicely. I neglected to put on contacts today; I was not dealing with that again. Camryn was Kyoko, another character from the show I was cosplaying from. Walking around with her, multiple people recognized us and came up for pictures. Finally, people were noticing how much work I put into my costume.
We rushed to grab our memberships before the panels we wanted to attend, and then Cam, Eliza, and I split off from my parents and brother to run across hotels to the "American Musicals and All That Jazz" panel. A few women sat at a table and discussed the history of American musical theatre from Showboat to Hamilton. One of them worked for a Broadway company, and taught us a bit about how Broadway worked from the inside. My parents attended the a Battlestar Galactica panel with a Q-and-A session from the actors.
We headed to the vendor's hall again to explore what we hadn't the previous day. I found a booth with signed copies of the brand-new Star Wars novel about Captain Phasma, but embarrassingly, I was out of money. I decided to ask my parents about the book later. For now, I wanted to get a picture with my favorite cosplayer, Yaya Han. She makes incredible costumes with intricate original designs, and her work has inspired me to make my own cosplays. Her booth was stacked high with signed pictures and mementos, and she was happy to talk to fans. She even complimented my costume.
After a lunch break I had a quick photoshoot with Camryn, and some other cosplayers from the same show passed by. Thank goodness, someone else liked the show enough to cosplay from it. We talked with them about cosplay and Madoka Magica, and we even got some pictures.
Finally, we went back to the vendor's hall and split up again. My parents bought me the Phasma book as an early Hanukkah present, and then Kamron and I messed around with model lightsabers until it was time to go, swishing them around to hear the sound effects and staring into their hypnotizing neon glow.
The last event of our con experience was a makeup panel with Dax Exclamationpoint, a cosplay-themed drag queen who was on season eight of Rupaul's Drag Race. We got there early and sat around in line for an hour. In the panel, Dax took questions about makeup, and answered them with her years of cosplay experience.
I went up to the mic, nervous, and asked Dax how I might have repaired the wig from yesterday. She seemed to agree with me that there wasn't much I could do for it overnight, but she gave me some great tips about repairing wigs. I learned about how to use fabric softener to detangle wigs and which products to use to keep wigs looking like new. Dax felt like a bit like a dry-witted mother figure, smiling at all of the attendees and giving them personal tips. After we spoke with Dax one-on-one, my parents met us at the panel, and we drove home.
Dragon Con was unlike any other con I had ever been to before. Everything was supersized, from the panels and cosplays to the lines and crowds. The hotels were so far apart that it felt like we were doing more walking than anything else, and it was hard to get into any panels. The other cons I've been to, namely Momocon and Anime Weekend Atlanta, have been much smaller, more traversable, and easier to navigate. Comparing Dragon Con to Momocon is like comparing apples to oranges. Where Momocon is relatively small, with more niche panels and less famous guests, Dragon Con is huge, with big-budget guests and more fandoms than you can count.
I might actually prefer Momocon to Dragon Con, just because it's less crowded and easier to get around. Despite that, I'd like to go to Dragon Con again. There's just something special about being around so many other nerds.