Spring Sports Preview: Baseball and Soccer
The 2021 spring sports season is underway at Cedar Shoals as six varsity teams prepare for the long road ahead.
In a year where several games have already been canceled due to COVID-19 precautions, teams are aware that they might have to change their plans on short notice. To account for this possibility, some teams are carrying larger-than-usual squads in case some players are forced to quarantine. Despite these challenges, teams are eager to get back to playing after their seasons were cut short last year.
Baseball
Under second year head coach Josh Campbell, the Jaguar baseball team looks to build on improvements that they saw glimpses of last season. After going winless out of 24 games in 2019, the team started last year's season 0-7 before winning two consecutive games before the pandemic hit.
"Now for the team, we want to win some games," Campbell said. "We finished last season with winning our final two games before we got shut down with the virus. Those were the first two wins that we've had as a program in almost three years."
While the team has struggled in past years, senior pitcher and shortstop Benjamin Michael has been a star, leading the team in batting average (.261), hits (6) and runs (7) last season. He played as an outfielder, second baseman and shortstop before developing his pitching skills in the past two years.
"One thing I've improved on is my confidence especially since I was an eight grader," Michael said. "As I've gone along, I've become more confident thanks to my teammates and coaches. This confidence has helped me become a better player overall."
Michael will be looking to help the team improve their .132 batting average and 6.35 earned-run-average from last season. In order to provide the leadership that the team needs to be successful, Michael will be vocal both in practice and during games.
"He's improved on his leadership abilities because he knows that he is a leader on the team," Campbell said. "He's taken more of a voice in being that leader and he actually helps me run practice and makes sure that guys are doing what they are supposed to be doing. The players look up to him as a role model."
The team starts their season by playing Stephens County, Meadowcreek and Rabun County before they open region play against Flowery Branch on March 8.
Girls Soccer
The Lady Jags soccer team is looking to add to recent progress. In four games last season, Cedar scored twice (both in the season opener). These goals were a significant improvement from the previous season where the team was scoreless in 13 games. Head coach Joshua West isn't focused on the amount of goals they score, however. He hopes the players develop their soccer skills while keeping a positive attitude that will help them in other aspects of their lives.
"I want to see continued progression," West said. "I'm not going to say X amount of wins or Y amount of goals, those things will come as they continue to develop. I want them to enjoy the game, to be passionate about the game and to want to do well. More importantly, to understand if they come to show up every day and have an attitude to work, good things will happen. I think that will transfer into any avenue in life, whether they continue to play or not."
Senior midfielder and captain Amanda Wise will look to step up her role as the leader of the team this year. Wise is going into her fourth season as a member of the varsity team and second season as a captain. Wise is proud of the team that they have put together.
"Last year we had a bunch of freshmen and younger student athletes," Wise said. "We didn't have very many seniors so just compared to last year, I think the experience of the team has grown so much. Not only that but our team has done more bonding activities so we've gotten to know each other better not only as teammates but also as friends. I think we have improved so much even in the past year."
Wise will be looking to help the team put more goals in the back of the net while acting as the connector in midfield as the transition from defense to offense goes through her. West says that Amanda Wise, Amina Ba, and Mounina Ba (All captains this year) have been his cornerstones since he first took over the program three years ago.
"Amanda has been very dedicated," West said. "She's been a leader within the team and a boss along with the other captains. Amanda is one of the people that some of the youngsters can look at and say 'With hard work and dedication as well as doing the right things and doing it for the longevity of your high school career, you can end up being a pretty impactful varsity player in the state of Georgia.' She's a testament to hard work and doing the right things over and over again."
The girls soccer team is 0-4 so far this season and looks to gain confidence and experience before they open up region play against North Oconee on Feb. 26.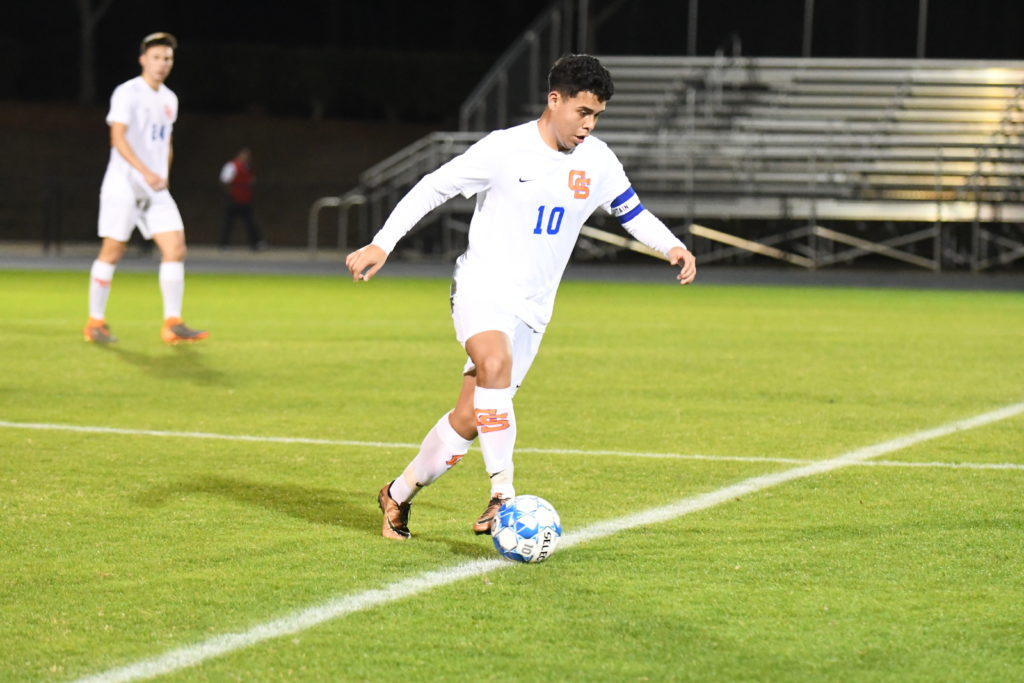 Boys Soccer
The Cedar Shoals boys soccer team is coming off three straight successful seasons as they made the playoffs in the spring of 2018 and 2019. They were well on their way last season after a 6-0 start and a ranking of number seven in the state for class 5-A. The team believed they could make a deep playoff run as they had been eliminated in the first round the prior two seasons. Fifth year assistant coach Connor Naughton says the team's goal for this season is playoffs or broke.
"The goal for the team this year is to make the state playoffs, like they always are," Naughton said. "To make a run at state with the quality that this team has, it's just a matter of can we put the pieces together… We want to continue that momentum from last year and really make a run deep in the playoffs this year."
Second year captain and senior midfielder Allen Lopez will be the key to that deep playoff run that the team is hopeful for this year. His first year on varsity as a sophomore, Lopez led the team in both chances created (41) and tackles (85) which highlights his importance on both offense and defense. That same season he won team MVP and was selected to First Team All-Region 8-AAAAA.
Lopez had three goals and 26 tackles in the six games played last year. Coming into this season as a Georgia High School Preseason All-State Team honorable mention, Lopez hopes the skills he has learned since he first came to the program will help him have a successful senior season.
"I have definitely learned to read the game better," Lopez said. "I'm able to control the ball and just play Cedar's style which is to maintain possession. I have a lot more confidence on the ball which I didn't have my freshman year. I just feel like I'm a better leader now."
Lopez will be acting as the "quarterback" of the team in the defensive midfielder position where he will help the team transition from defending to attacking. While his main role is to distribute the ball, Lopez isn't afraid to take the shot when necessary. He has scored four goals in the last two seasons. Naughton believes that Lopez is the perfect example of what the Cedar soccer program is trying to produce: a passionate leader.
"He's such a dedicated and exemplary student athlete in every sense of the word as far as his motivation, his leadership and his passion," said Naughton. "Just from his first three seasons, I would already say he is one of the most decorated Cedar Shoals soccer players in recent memory. Allen is looking to lead the charge in continuing our momentum from last season and is posed to have a really strong senior season."
The boys soccer team will look to build momentum heading into region play. As was the case in 2018, the team can lose a lot of non-region games, but if they perform well in region play, they will make the playoffs. Naughton says the team is looking to try news things and develop as much as possible before the team opens region play against North Oconee on Feb. 26. The team is currently 2-2 after winning against East Jackson and Oconee County.