Tennis turns over a new leaf
After last year's season, which was noncompetitive and consisted of four regular players, the Cedar Shoals tennis team is making a comeback. On Jan. 11, the team held their first practice, where 20 students were present to learn technique and put each other's skills to the test.
"It was my first time actually playing on our team, so it felt good having other people to play with," freshman Spencer Waldroup said.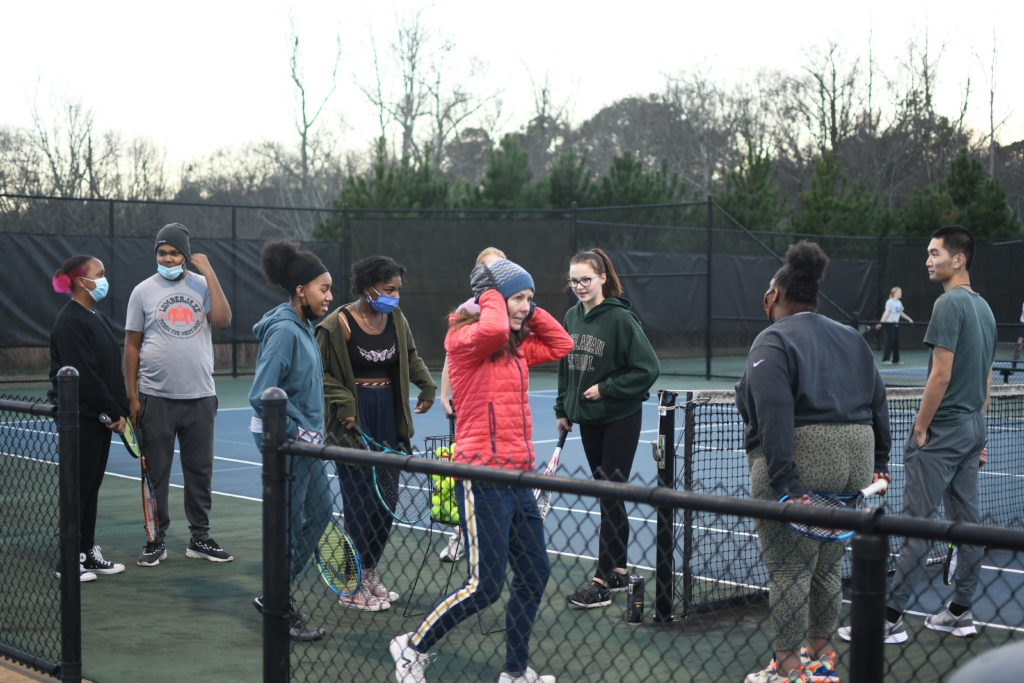 The program kicked off the season in October with conditioning on the Cedar Shoals campus, incorporating running long distance and sprinting with agility and strength training.
"We started off with running and did a lot of back and forth cardio, and we did the Green Mile (a track around the Cedar Shoals grounds)," Waldroup said. "We also did a lot of stretching too, probably half (cardio) and half (stretching). It did help us build some stamina for the court."
Carly Chandler, science department, has been coaching the team since 2017. Although there have been additional coaches throughout the years to work with the team's boys, Chandler is the program's only coach this year.
"​​We've got beginners and intermediates, and then we've got a couple of kids who actually have some playing behind them," Chandler said. "My goal is to work with real beginners on a few specific skill sets. While I'm doing that, I try to pair up people that I think will be the most competitive together to play against each other."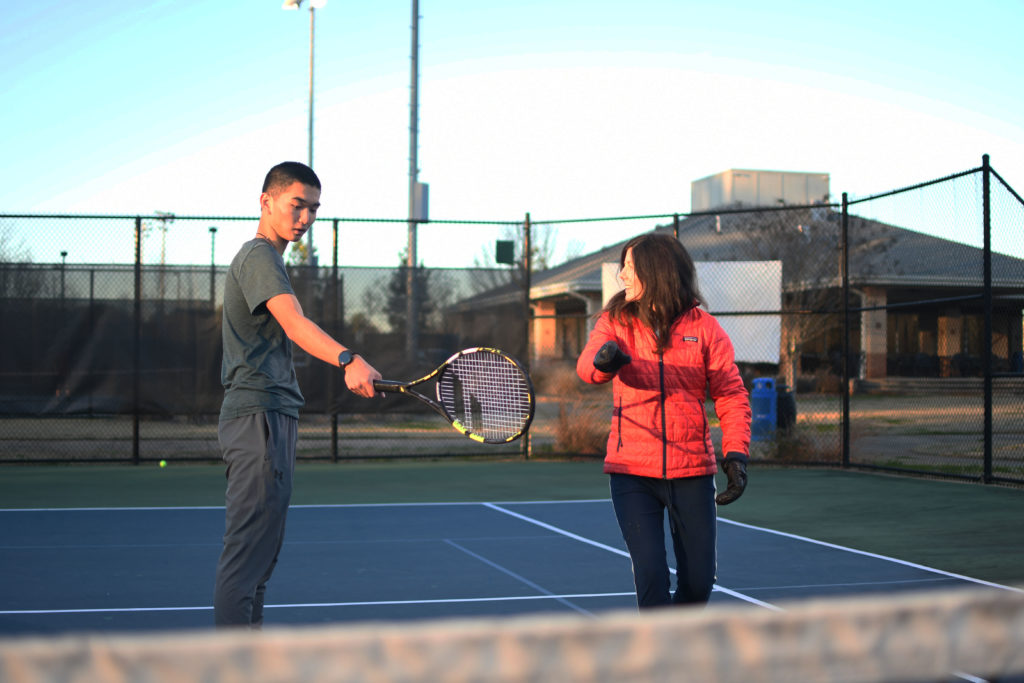 Growing up playing tennis in elementary school, senior Mia Morlock was eager to get reacquainted with the sport in high school. She practiced with the team last year and appreciates how the variety of players gives each person a diversity of skill levels to train against.
"We have some people here that have had private lessons, and then there are people that played when they were younger but they kind of lost it and came back," Morlock said. "Then there are some people that haven't seen a match before, so it's really different but I think that's one of the best parts."
Chandler, who grew up in a competitive tennis environment, had to adjust to players' needs when competing wasn't an option last season. She now recognizes the importance of creating that foundation.
"I grew up in a hyper-competitive high school, where winning was the only goal and we killed ourselves to win and that was it. That was the only mindset," Chandler said. "That was difficult when I showed up here because if you have not grown up playing tennis at all, if your first time playing tennis is when you're 17, you're probably not going to win. That can't be the goal."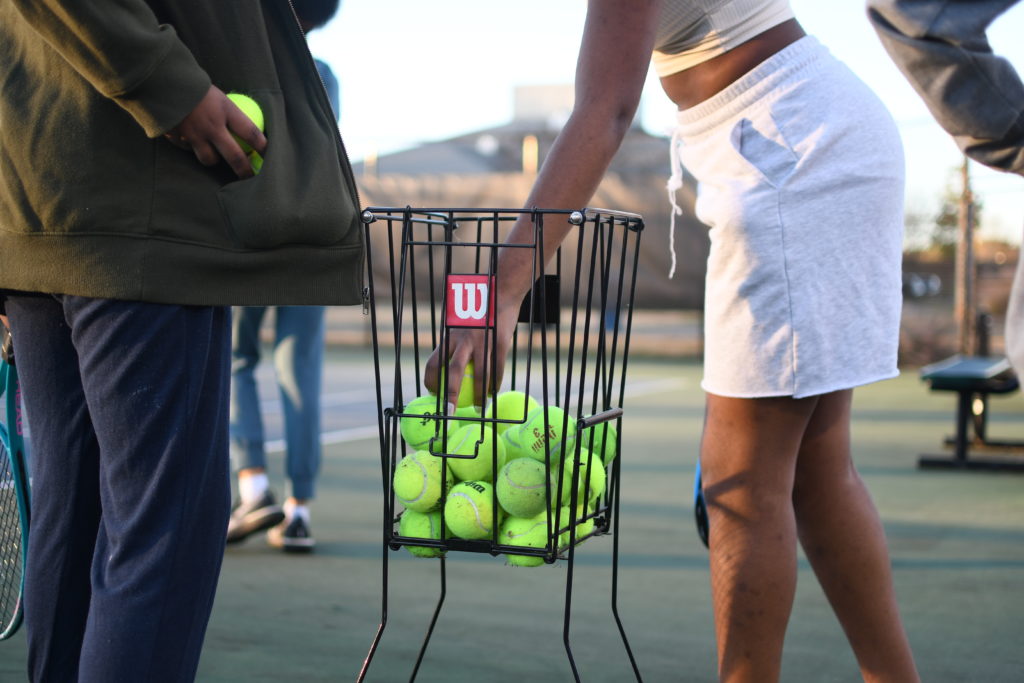 After taking last season to get familiar with the sport and practice for fun, the team now expects to have the seven boy and seven girl minimum requirement to participate in competitions. Chandler expects more players to join as winter sports like swimming and wrestling end their seasons.
"My goal is to actually play in a real match because I haven't done that and also work on my serving," Morlock said.
Players also know the specific skills they need to work on to succeed in competing.
"I hope to get better, be more consistent with my rallies and not hit the net or hit it out of the area," Waldroup said. "My goals are pretty much set in motion for just winning matches."
Chandler also has ideas for what to work with the team on during practice.
"We all need to work on movement. Tennis is really cool because it's very quick. Where you have to move is a split second decision, and your distance from the ball is clutch in having a good shot," Chandler said. "The number one mistake that players make is not understanding where they have to move."
Without enough courts on the Cedar Shoals campus, practices take place at the Athens-Clarke County Tennis Center off of Lexington Road. The program has run into transportation issues though. With a shortage of bus drivers in CCSD, there is not always a reliable bus to get students to the courts on time or at all.
"It's not the kids on the bus' fault, but they're getting here 20 minutes late. If I wait until then and then we go do a warmup, we just won't have time and what we really need is time on the court. As much as we need to get in shape, if you don't know how to hold the tennis racket, it doesn't matter," Chandler said.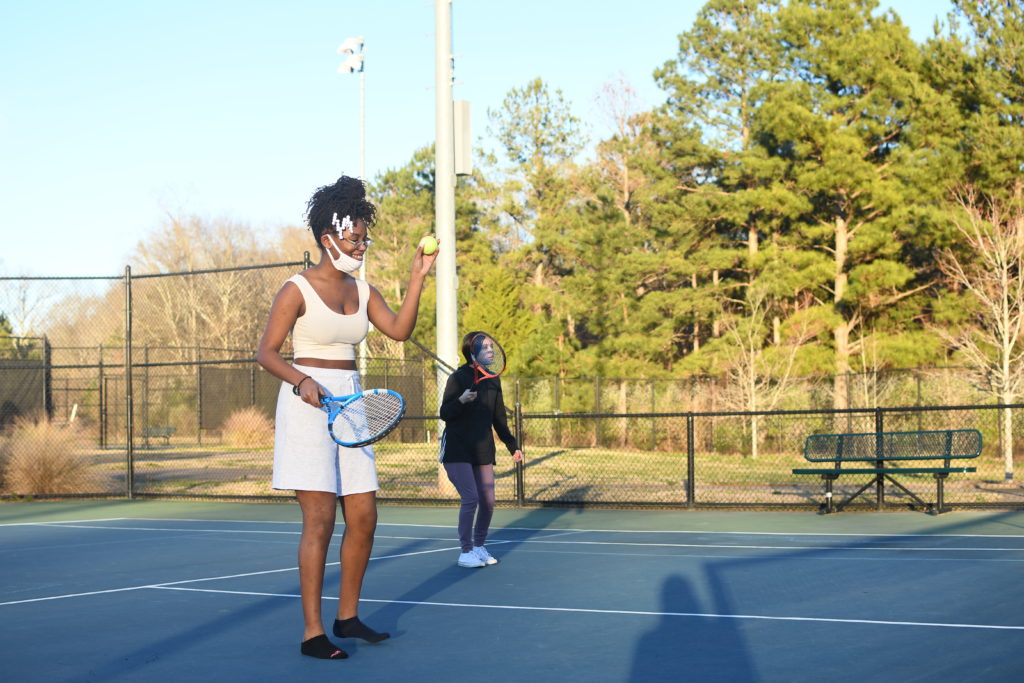 Despite the logistical challenges, Chandler enjoys spending her time outdoors as much as possible, whether it be 6 a.m. runs, taking her environmental science class to a river or playing on the tennis courts. She hopes to teach a deeper connection with exercise to all tennis players.
"My goal is for you to set a goal. Whether it's 'I want to get in shape. I want to learn something new. I want to make friends. I want to feel part of a team.' Whatever that is, actually commit to it," Chandler said. "I'm a really really big believer that developing your physical abilities, and your physical body is intricately related to your mental health, so that's my goal for everybody on the team: gain mental health through physical health."
Practices are from 4-5:30 every Monday, Tuesday, Wednesday and Friday, and are open to all regardless of experience. The program's first meet will take place on Feb. 22 against Chestatee High School.