High expectations for the road ahead
Coming off two straight seasons of playoff appearances followed by an apparent third before the GHSA shutdown the 2020 season, the Cedar Shoals boys soccer team was poised to make a deep playoff run last season. However, the Jaguars went 5-9 and missed the postseason altogether. In order to make it back to the playoffs this season, the Jaguars will have to rely on their young talent to be successful in one of the hardest regions in the state.
The team replaces 12 seniors who graduated in the offseason, a class that assistant coach Conor Naughton credits with establishing a winning culture in the program.
"The class of 2021 were all high character guys who were really good leaders that helped build the program to where it is today, so it's definitely going to be tough to refill the holes that they left," Naughton said.
While the seniors played a large role in the team last season, there was plenty of young talent on display. A strong season by senior forward Enock Maganda, senior defender (converted forward) Hossiel Pena and sophomore midfielder Fernando Vera-Rubio led them to be named to the GHSA All-State preseason team for this year with sophomore Luis Martinez named an honorable mention. Pena, who has two goals and four assists in his first three games this season, says being named to the All-State team means all the work he has put in over the last three years are paying off.
"Receiving this honor means that the work that I have put into the success of the team was worth it," Pena said.
Naughton believes this honor is a good way to recognize talented players who often get overlooked.
"A lot of times in years past, we have had a lot of great players that don't get the acknowledgment that they deserve," Naughton said. "It's really nice for those players to get recognized for their talent and the hard work that they put into the program."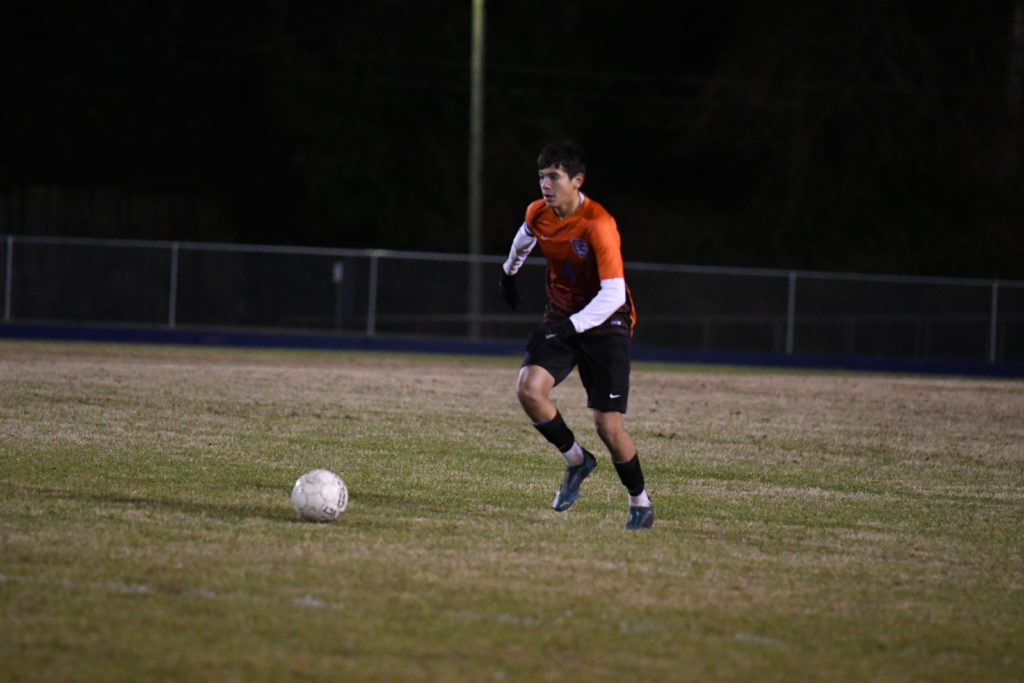 With only six seniors this season, a large majority of the team (and starting lineup) are underclassmen. Martinez, who started every game as a freshman last year, feels that it is important to have young players on the varsity team.
"I think it is important for our team to have young players so that they can gain experience while they are still developing their skills," Martinez said. "If they stick with it and keep getting better every year, we will be unstoppable in the near future."
The Cedar soccer program prides itself on developing young players into experienced leaders by the time they graduate.
"We like to bring young players into the program so that by the time they are upperclassmen, they are ready to lead," Naughton said. "Teaching them the basics of our system while they are young allows us to implement more complex coaching tactics as they gain more experience."
In addition to being inexperienced, teams with younger players are often undersized. Relying on the team's quickness and ability to distribute the ball will be key to overcoming bigger opponents.
"We are definitely going to have to learn to cope with the physicality of high school soccer, especially for the ninth and 10th graders who are not used to playing 17 and 18 year olds," Naughton said. "We are going to have to move the ball quickly, be technically better and smarter than them in order to have success."
With three teams making it to the elite eight last season, two of which advanced to the final four, region eight is arguably the toughest boys soccer region in class 4A. The Jaguars will need to improve on their 1-5 region record from last season if they want to finish in a playoff qualifying spot this year. Naughton believes that the region will be tough again this season and that every team will be competitive.
"East Hall is definitely a team to look out for as they made it to the state championship and Jefferson made it to the final four so those will be tough matchups," Naughton said. "Flowery Branch is also really strong as they were ranked first in the state across all classifications at one point last year but we were beating them at halftime so we can definitely hang with everybody that we will face. We really don't have any easy region matches so I anticipate that every game is going to be a grind."
Pena sees the benefit in playing a tough schedule.
"This year we not only have tough region opponents but our non-region schedule is pretty difficult," Pena said. "Hopefully we can take these challenges as preparation for the playoffs."
The Jaguars opened their season on Jan. 28 with a 2-1 victory over Providence Christian. They followed that up with wins over Social Circle (4-0) and Oglethorpe (6-1). They will look to continue their winning streak tonight at Franklin County. The team hopes to gain more experience before they open region play at Jefferson on Mar. 4.
"This group is truly special," head coach Brian Lukasiewicz said. "We are further along at this point in the season than we have ever been. We have a chance to go really far this year as long as we don't become content and we keep pushing to get better."