Both sides of the ball: Toby Bolton's journey from pee-wee to division I

As Toby Bolton ran after his dog through the park, he caught the eye of a former football coach who approached him and asked him if he was interested in playing football.
"I told him no and my mother said that she couldn't afford me to get in, but the coach offered to pay for my expenses," Bolton said. "During my first little league game I scored my first play, so that's when I knew football would be the thing for me."
When Bolton was younger he had many dreams, but once he started playing football they changed.
"Once I started playing football it was my dream to go to the NFL. I'm gonna be rich, and I'm going to buy my momma a house," Bolton said.
In middle school, however, Bolton's goals were not as clear. It took being confronted by a close family member to lead him to a decision.
"I didn't really take it 100% — still didn't know if I wanted to play or not. Starting my freshman year of high school my uncle came up to me and asked if I wanted to take football seriously. I had to think about it and I eventually told him I did. He put me in training for more practice. That's what got me to the best version of myself," Bolton said.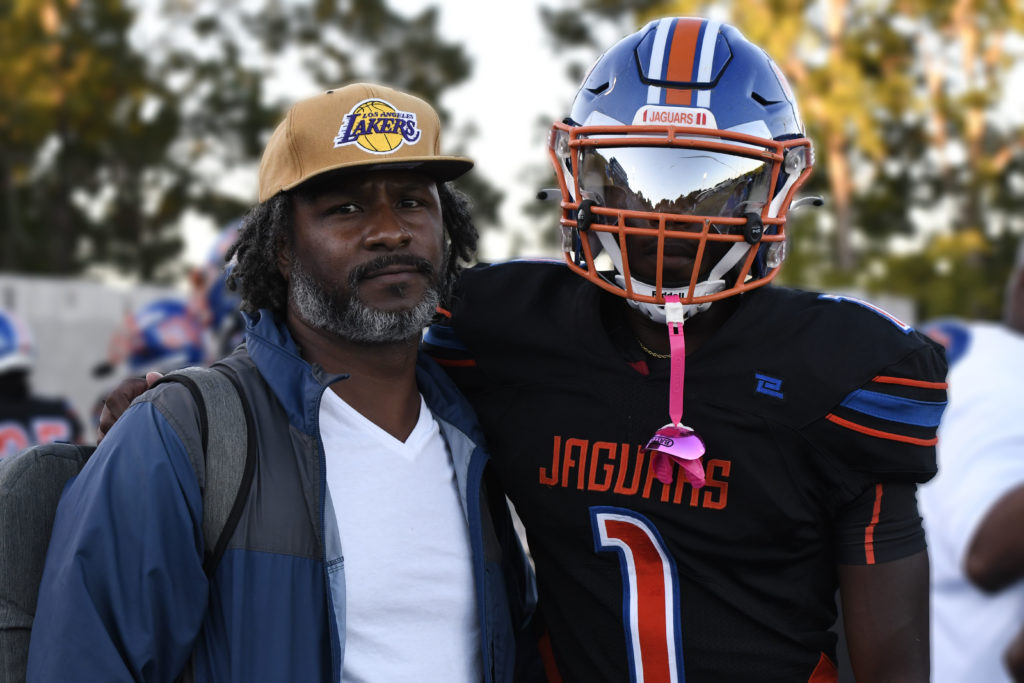 Now at the peak of his senior year, Bolton balances his football career, academics and his personal life.
"Having a great work ethic gives me a drive to shape me into having a flow with school work and to stay on top of things so it doesn't stress me out much," Bolton said.
Like anyone, Bolton admits that he finds moments of disappointment, but he has learned to use them as motivation for improvement.
"It happens mainly when I don't have a good game or I'm just practicing to the point I don't see any progress, but I push myself to the point I can get past it and change things to see progress by staying consistent," Bolton said.
Head football coach Leroy Ryals sees how Bolton's work ethic pays off both individually and for the team.
"He's been driven and known what he's wanted to do since day one. I'm overall glad about Toby's offer. He can get where he wants to be with expenses covered," Ryals said.
Bolton fielded three college offers from Anderson University, Furman and his Division I offer from Tennessee Tech University. Bolton chose Tennessee Tech over the summer to commit early and have his life already set after high school graduation. When he visited the school, he was only attending a junior day and he did not expect to be leaving with an official scholarship offer.
"I didn't know I was going to come out with my D-I offer the same day," Bolton said. "My reaction when I got it was me just questioning if this is really real? Is this the process? I just kept telling myself 'don't get too comfortable because this isn't where the road ends.' Just because you got an offer dont mean it's over," Bolton said.
True to his work ethic, Bolton aims to finish high school in strong academic standing to still be successful with or without a college football career.
"I'm going to do what I can to succeed in my dream with the athletic part but my main goal is getting my education: getting the degree in business and management and at the end of the day school is school. Football won't always have me so I need to make sure I have something to fall back on," Bolton said.
Boltons mother has been by his side through it all. She loves watching Bolton growing up and continuing on living his dreams.
"From the time Toby was younger, he has just lightened up with football. Being a single mother I can tell Toby has gotten many features of me and it inspires me every day to continue to support him in his dreams," Parrot said.
Playing both offense and defense this season, Bolton is showing success on both sides of the field. He has totaled up 40 tackles, five pass break ups, three interceptions, two fumbles forced, three tackles for loss, and one rushing and receiving touchdown each.
More importantly, Bolton remains grateful for his opportunity, wanting others to be encouraged by his story.
"Anybody else out there that feels like it's a long process just trust the process and do everything you can do that will lead you in the right path. Just stay patient, consistent and focus and the time will come," Bolton said.