Woodson's welding lab: student success meets community demand
At first glance, it would be easy to assume that Pierce Woodson's classroom is a typical learning space. However, with the push of what looks like a closet door, this ordinary classroom transforms into a fully functional welding and manufacturing lab. Sparks fly and the whir of students independently operating horizontal band saws and sheet metal benders greet anyone that enters.
A former helicopter mechanic for the United States Marine Corps and later an instructor for adult classes on welding and manufacturing, Woodson was hired at the Athens Community Career Academy to help start and operate the advanced manufacturing and welding pathway. It launched in the fall of 2020, but due to the COVID-19 pandemic students were not able to use the newly built lab on the ACCA campus until Fall 2021.
"We kind of flew by the seat of our pants (last year), but we made it work. Every student who went through our pathway has received several different certifications, including OSHA 10 (Occupational Safety and Health Administration Certification), First Aid, CPR (Cardiopulmonary Resuscitation) and AED (Automated External Defibrillator Training), and we just kind of went with everything that worked," Woodson said.
After a year of online learning, Woodson and his students were excited to return to school and begin working in the untouched lab, including senior Joshua Moon who plans to enter the welding field when he graduates in May. Although this pathway offers a variety of curricula, including woodworking, metalwork and laser cutting, Moon enjoys growing and perfecting his welding skill set.
"I'm glad I was able to learn how to weld. I will be able to go out and get a job and show that I'm certified and can do the job well," Moon said.
As the spring semester winds down, Moon plans to speak with companies that have been community partners with ACCA about potential employment. These corporations, including Caterpillar, Carrier Transicold, and ABB Motors & Mechanical, have helped design the curriculum for this pathway and provided funding for the lab's production.
"They've (the partners) helped us as far as funding and starting the program, but they also provide a lot of feedback to the individual students. They come in and talk about what they do at their respective workplaces. We try to keep the relationship fairly close, and the students have the opportunity to go directly into those fields with those partners or even intern in those fields for pay," Woodson said.
The U.S. Bureau of Labor Statistics projects the welding field to experience 8% growth from 2020 to 2030. The median hourly wage for most careers in this field starts at $17-$24 an hour and could grow up to $60 an hour without requiring a college degree.
"As of right now, welders, manufacturing engineers and maintenance engineers are in a real deficit in this country. We got in a situation because those jobs are so reliable, the people in them stayed in them, and now they're retiring with nobody to back them up," Woodson said. "There's a real gap in employment in those areas and its high demand. We talked with some of our partners in the community and found that they really had a need for these kinds of individuals."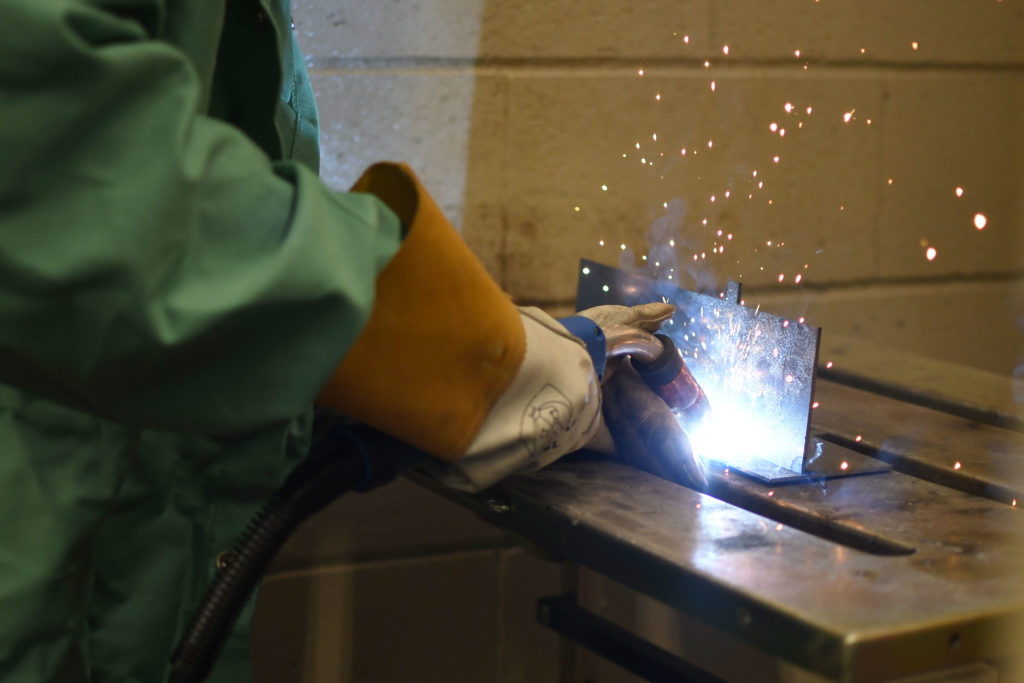 Jaylen Stringer, a junior at Cedar Shoals, is also interested in potentially pursuing a career in welding, finding the digital aspects of welding particularly interesting. The pathway takes commission orders from the community, including products such as firepits, and uses the proceeds to continue improving the program. When building these products, the students need a blueprint for putting the piece together. That's where Stringer comes in.
"For most of the things that we weld, he (Mr. Woodson) will give the idea to me, and I find or build a blueprint before we build. For this, I would go and stratify it as a 3D model, so that we can make a digital blueprint and see how to build it from scratch," Stringer said, pointing at a table with welded metal robots, snowmen, and cars.
One of the program's objectives is to cater the curriculum to student interests and comfort levels while ensuring that all students receive certifications such as OSHA 10, a nationally recognized certification that trains individuals on safety within a manufacturing work environment, and first aid.
"We do different kinds of hands-on things. Not only do we have regular welders, but we also have virtual welders that in the event somebody's either too nervous to work around the sparks, doesn't want to work around the heat or has some kind of learning impairment, that they need to do it there first. We really focus on making sure that every student has equal access to the information," Woodson said.
In addition to adapting the curriculum to his students' interests, Woodson also makes an effort to observe his students' learning styles and modify his lessons accordingly.
"I don't learn very well traditionally, and I think our students don't do very well in a traditional environment. Even if they do, they do better in a hands-on environment," Woodson said. "I try to cater the content to the student. If that student learns better through PowerPoints, which I don't think many of us do, then that's how I will present the information. If that student learns better by seeing me do something, and then they do that too, then that's what we'll do." 
Woodson's students appreciate the change of pace the welding lab's collaborative learning environment provides.
"We had one project with cars. We started with wood and tried to design the metal version, and I think that was fun because the whole class got to interact. It brought a lot of people into the activity, and it gave everyone a learning experience," Stringer said. "He's (Woodson) a great teacher, he's a great instructor."