Cedar mental health forum raises awareness about resources
After his son's mental health struggles this winter, Stacy Dean, Barnett Shoals Zone Neighborhood Leader and former Cedar Shoals security guard, realized how prevalent these issues are. Dean reached out to the counseling office in hopes to bring more awareness to the subject of mental health at Cedar.
"My two sons had episodes with mental health during the holiday and it was really tough. I realized that 'Hey, if my sons had to go through that then other students and parents have to go through that as well.' I wanted to make sure that everybody in the school and the community is aware of the resources that we have to help students and parents, but also to tell them mental health is not a bad thing," Dean said.
With this goal in mind, Dean and the Cedar counseling department held a mental health forum on April 26 during advisement. The event, which was broadcast to students over Zoom, included a question and answer session with panelists and a discussion of resources available to students.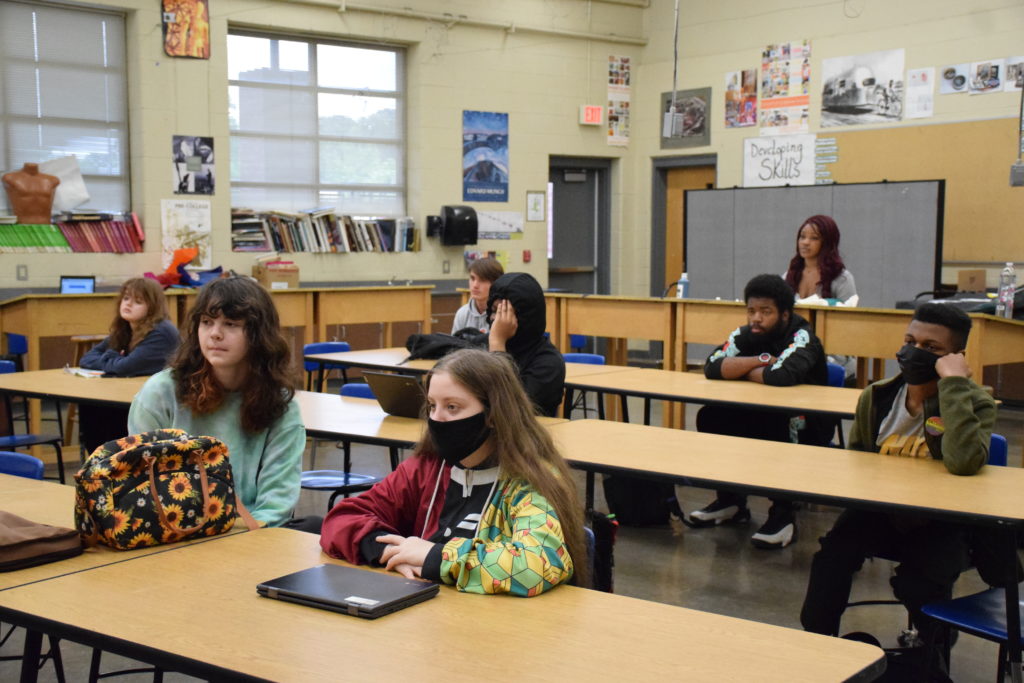 Dean also decided to have his sons, Tyler and Taylor Dean, speak at the forum, to share their experiences with mental health struggles. The twins graduated high school in 2020, which Dean hopes helped students relate to them.
"They're coming just to let students know, it's okay. If you have a bad day, the most important thing is to let someone know and also to not be ashamed that people want to help, so that's basically what I encourage them to do. I encouraged them to help out and they were more than happy to help," Dean said.
The questions asked during the panel came from a survey sent out to students. Kizzy Wingfield, Cedar mental health counselor and forum panelist, says collecting responses from this google form was in an effort to personalize the event.
"A lot of times students may not ask a question in front of their peers, so we wanted to do an anonymous survey to get their input. Then we had mental health professionals here, so they could provide some insight," Wingfield said. "Some questions we got more than once and those are the ones that we asked our panelists."
Along with Tyler and Taylor, an array of teen mental health professionals spoke at the event in hopes of further breaking stigmas and raising awareness about community resources. Patrick Williams, who represented Advantage Behavioral Health on the panel, felt it was a good opportunity to talk about programs like his which offer youth counseling services.
"We discussed questions asked by students to help erase some of the stigmas of counseling and therapy that they might have. We talked about them not being the only ones struggling with things, and not being afraid to come out and seek help, which is a big thing we battle," Williams said. 
Sophomore Marilin Cruz-Morales feels that bringing therapists into schools is helpful, but like Williams said, many students find it difficult to talk about their feelings.
"It's a scary thing to come to somebody when you need help, because most people just tend to back off and not try to ask when they need help," Cruz-Morales said.
Wingfield hopes the event encourages students like Cruz-Morales, who might be hesitant to talk to a therapist to consider it. For students wanting to speak to a therapist, her and other counselors are available. They can also help connect students with counseling resources outside the school, even providing options for students without insurance or who don't have transportation.
"If you say, 'Hey, I need help', we can figure out what their support looks like. If it's in-person therapy, maybe somebody to come to school, a therapist they can see out in the community, or somebody that can actually come to their home. There are so many ways that we can get somebody help in whatever setting they feel the most comfortable with," Wingfield said.
For Dean the forum is just the beginning— he hopes to increase student's access to therapists within the school and engage with parents as well. Currently he and the counselors are planning a similar event to take place at the beginning of next school year. As well as increasing awareness about resources and breaking stigmas, Dean wants students to know he and many others care about them.
"I hope they know they have somebody that cares about their opinion, their thought process and their mental state. We really want the best for them and them to have a tremendous high school experience," Dean said.